You Guys. I won SNL tickets. I'm not even shitting you. For real.
Every August, Saturday Night Live opens up its lottery for tickets. You email them and they tell you if you win and what show you're scheduled to see. You don't get to request any date. That's how it works.
Hubs told me he put in for them. I didn't tell him I'd done it a few days before that. This is what real love is, people. It didn't matter, neither of us was going to win.
I'd gotten an auto-reply which I initially regarded as spam, but it went over some additional requirements such as that you had to have your full name and email address in the body of your email, so realizing that I had not done that in mine, I sent another. Mine read as follows:
Hubs and I are DYING this summer without our weekly dose of SNL (so we are looking forward to the upcoming Thursday weekend updates!). So is the rest of America. So to say that we are more deserving of tickets than everyone else makes us selfish assholes. But we really need to get away from our three children who like to sneak around the living room corner late at night on Saturday to see what the hell is sooo funny that's making us laugh so hard when we are generally scowling at them when they're trying to be funny by jumping on the nice furniture and farting on one another.
We promise to laugh harder and clap louder than anyone else. We are from Idaho, which everyone thinks is Iowa, but it's not. My husband in particular would love any musical guest because his iPod on shuffle plays Metallica, Christmas music, Hanson, Olivia Newton John, Adele, Lady Gaga, The Wiggles, Willie Nelson, Justin Bieber, Volbeat, Sia, and Carlos Santana.
I promise to write all about our experience on my blog, which has a far-reaching exposure of 3.6 human readers known to me personally and 47 Russian spy b

ots at http://www.dayleefix.blogspot.com
Thank you!
On Tuesday (8/15), I received the following email from NBC Universal:
CONGRATULATIONS! We are thrilled you are one of Saturday Night Lives' biggest fans and would like to invite you and a guest to be a part of our "Weekend Update Summer Edition" audience on August 17! We are holding two (2) tickets under your name! To confirm your tickets please reply to this email within 24 hours of receiving it or the tickets will be forfeited.
I checked my day planner.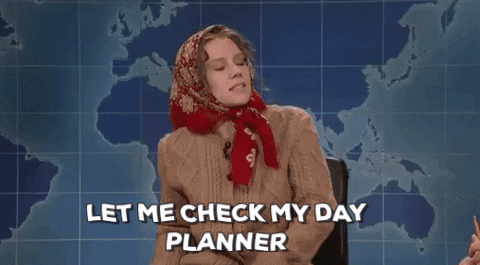 And then I immediately cried more tears than I did at the births of all three of my children combined. How could I be such a winner and such a loser all at the same time? I texted my boss:
"Hey. I won tickets to SNL, but it's for this week's Weekend Update. So I'm gonna need three days off and like $50,000 for last minute plane tickets and the fee to kennel my children. K thanks."
Luckily, he's pretty nice so he said yes, but also he has like zero authority so it didn't mean shit.
Anyway, a promise is a promise so I'm gonna write about my experience here.
The seats were amazing. Front row. Super comfy. Normally there would have only been tickets for two, but this time the entire family was there. I finally broke the news to my kids as they looked at me, wide-eyed.
"Guys, I have news. I won tickets to this show. Like THIS ONE that we are watching right now. But it didn't work out and dad and I couldn't go, because I didn't realize when I entered the drawing that they were also giving away tickets for these 30 minute Thursday shows. Now...you know that I love you very much, and even though Grandma is out of town and couldn't watch you, had this been a Saturday Night show, I would have left you with a dirty hobo in North Lewiston and high-tailed it to New York City."
And Clayton was like, "Yeah, duh."
And then the show started. And for thirty minutes including commercial breaks I died inside.
Jimmy.
Seth.
TINA.MTHRFKNG.FEY.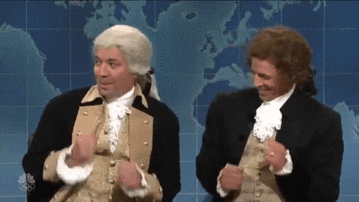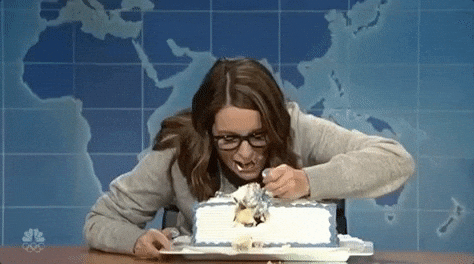 My feelings right now. Accurate.
It was a great show. Nobody better than Tina Fey could have appeared the one time I won the (ticket) lottery and couldn't go. You know why?
Here's a rundown of my week, the things that kept me from saying, "screw it, let's hop a flight":
A group of current members of a professional association I belong to asked to meet to discuss forming a new local chapter. This foundation-level participation may not have moved forward if I'd missed it. I'm the Vice President now, and I'm not sure how that happened.
Stuffed 800 million pieces of paper with things like school district calendars and instructions to apply for free or reduced lunches or milk and permission slips for field trips and vision testing and the "hey, so you got boobs-n-pubes now no big deal, or also hey, so you don't have boobs-n-pubes yet no big deal" talk into manila envelopes for 400 children to crumple into the abyss that is their backpacks in a week.
Provided insight into the job that I do for actual paper money to other people so that maybe the world is a better place tomorrow (but probably not).
Hockey meeting because even when it's 105 degrees outside, we still have to talk about the hockey.
Gathered materials for another entity who sought out my expertise on one particular topic in preparation for a week-long faculty opportunity in the town I went to once and luckily didn't get stabbed and I really feel like I'm getting sassy with the universe by going back there, TBH.
Ordered one mascot costume for 2ndKid as a gift from our family to the school for the purposes of smearing school spirit allllll up in there.
Also like, my normal job and also like Hubs' normal job that we do for money.
All this shit. This stuff that could have waited. This stuff that takes precedent and we fall back on when something fun or amazing or once-in-a-lifetime comes up. All of it is the reason I woke up today okay with having watched it from the living room with the fam. Because if I've ever learned anything from Tina Fey, it's that bitches get stuff done.